Software Review and Free Download > Multimedia > Virtual CD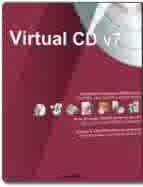 » Review Virtual CD
(august 2007)
Virtual CD 8.0

Use and burn CDs and DVDs without a drive!


Virtual CD, the worldwide leading CD emulator, is now available in the version 8.
Alongside a number of various improvements, Virtual CD version 8 has been extended with a wide range of new functions to ease your working with virtual and physical CDs and DVDs.

Virtual CD v8 is the very first CD-emulator to employ a native Microsoft-certified 64-bit driver, as well as a

virtual burner with which you can burn CDs and DVDs even without a drive and without a blank disk.

Here is a summary of the new functions in Virtual CD v8:

Certified 64-bit driver

Virtual CD/DVD-burner

Virtual encrypted hard-drive

Expanded function access over the tray icon

Insertion of virtual CDs also in physical drives
Improved support of non-standard CD/DVD formats

Noise reducer for physical CD/DVD-drives

Enhanced toolbox

Improved API- and script functions

Flexible layout of the CD-management incl. layout browser

Advantages of Virtual CD
Up to 23 virtual CD/DVD drives
Up to 23 CDs/DVDs accessible at the same time

High speed access to an unlimited number of CDs and DVDs
1:1 access to CD- or DVD-images stored in a network

CD/DVD data throughput at hard disc speed (200x CD-ROM)

Accesstime up to 93% faster than a phys. CD-ROM drive

Concurrent access of several computers to a CD/DVD image
and much more...




Download Virtual CD


Categories:
Security Solutions
Antivirus Anti Spyware Firewall System cleaner Encryption
---
Audio and Video
CD-DVD tools
Media Converter
Multimedia
Media Players
Music management
Utilities and Plug ins
---
Graphics and Design
Web Design
Image tools
Design tools
Flash
Templates
Screen Savers
---
Learn
Articles
E Books
Business
---
Internet and Network tools
PDF Tools
Download Manager
Browsers
Webmaster Tools
Hosting
FTP
Internet
Network
---
Utilities and Tools
Desktop
Registry tools
Recovery
Editor
Backup
Utility
---
Phone Tools
Free Tools
---
Games
Action / Adventure
Arcade
Classic
Driving
Kids
Puzzles / Cards & Boards
Simulation
Sport
Strategy
Web Game
New Games